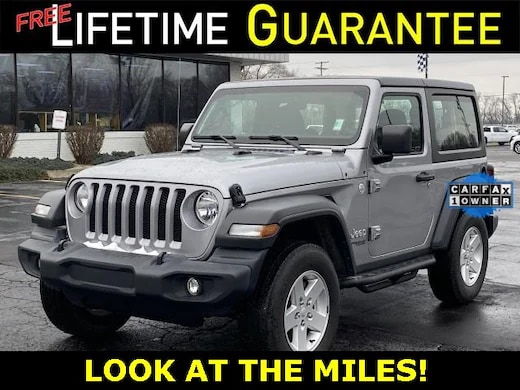 The Jeep Wrangler is not your ordinary SUV. The model's DNA is rooted in the United States military back in a day when the whole world was at war. Jeep's utility builds were used to shuttle equipment and soldiers back and forth to their destinations. Those early Jeep models will still be found in the Wrangler lineup of the last twenty years. A "Willys" will often mimic the first military Jeeps.
Jeeps for Sale Near Kalamazoo
Nowadays, a Jeep SUV dealer is keen to point out the Wrangler first to those of you out there who love off-roading. Every trim of Wrangler is trail rated and fit to conquer any wilderness you can uncover in America. You find the terrain. The Wrangler shows it who the boss is. Our Jeep SUV dealer carries the Wrangler for countless reasons, but we'll pick a few of our favorite reasons for you to shop for a Wrangler this year.
Convertible Genius
SUVs aren't shapeshifters most of the time, but the Wrangler can be. You can keep it all intact with the roof and doors on, or you can throw those off and have what looks to be an ATV. The windshield is also fold-down for those days when you want the experience of a real ATV. Its convertible nature is one of the top reasons people shop for a used Jeep Wrangler for sale.
Trail Rated
The term trail rated is well-known to people who've owned Jeep models in the past, but newcomers may wonder what it means to be trail rated. Jeep models are rigorously tested against the common obstacles found on trails. You'll find the model designed for higher ground clearance and manned by adaptive suspension systems that are sometimes adjustable. Most of all, trail rated means 4X4, and Jeep has a ton of those systems available or standard on the Wrangler.
Off-Road Royalty
A used Jeep Wrangler for sale rules a kingdom all by itself. There's no terrain too tough for your model to troll over. Water fording is a pastime of many off-roaders, and you can confidently splash at will thanks to your Jeep Wrangler design. This one is made to go anywhere it wants.
Used Jeep Wrangler for Sale
Finding a Jeep dealership near you means always having access to your favorite used Wranglers. We keep a large inventory of these models for our customers who refuse to stay home on the weekends. If you demand outdoor adventure during your off time, the Wrangler is a championship caliber choice for you.
Used models are fully inspected at our dealership, so you don't have to worry about taking a risk on an unproven model. You'll find our inventory is carefully restored by our certified auto technicians before we offer it to you. Shopping for a used model means getting quality as well as savings on your down payment and Jeep payment.
Shop at Vicksburg CDJR
Please call or write to our professional sales team today to if you'd like to know more about any Wrangler we have in stock.