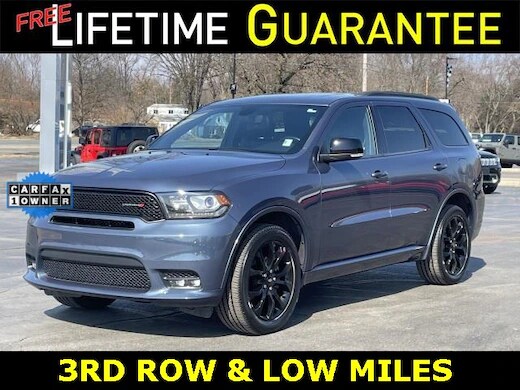 Vicksburg CDJR has all your favorite SUVs for sale this year. Shop from our wide selection of off-road Jeep SUVs or muscular, athletic Dodge SUVs. Both of these brands are a main attraction at any SUV dealer enar me. We invite you to get to know the Jeep and Dodge lineup of SUVs at our local dealership.
Jeep SUVs for Strong Off-Roading
Jeep has a huge lineup of SUVs, including the:
? Cherokee
? Grand Cherokee
? Renegade
? Compass
? Wagoneer
? Grand Wagoneer
That's one of the largest lineups of SUVs by any automaker in America, and each one has a very focused ambition. The Cherokee and Grand Cherokee focus on family space and comfort. A Renegade is a practical model that does the little things well. The Compass is one of our favorite models because it's a combination of intelligent pricing and the things that matter in life. And the Wagoneer and Grand Wagoneer are the grand finale of the lineup, a model that is more luxurious than any other SUV in its class. And we didn't even touch on the classic off-roader of the bunch: the Jeep Wrangler.
With so many SUVs for sale from the Jeep brand, you'll always walk away with the right deal. We have a huge inventory of new and used Jeep off-roaders and luxury SUVs. Just ask our team to give you the grand tour when you stop by.
Dodge SUVs for Athleticism
You can have a cool track appearance from your SUV. Modeled after Dodge's famous muscle cars, the Dodge Durango can be decorated with MOPAR racing stripes, hood scoops, and other sportier features. You'll also find the colors of the model seem to be inspired more by racing than traditional SUV performance.
Despite the heavy emphasis on appearance, the Dodge Durango is also a very nice family SUV. It gets spacious cargo and passenger capacity, outstanding technology, and major exterior perks like power liftgates. If you buy the model new, you'll get a large touchscreen command center, leather-wrapped steering wheel, and more modern colors. Even if you shop from our pre-owned or CPO selection, you'll be thrilled at what you see from the Dodge Durango's capability over the model years.
Feel at Home at Vicksburg CDJR
We're an extremely well thought of dealership in your area. If you haven't heard of us yet, we're glad you finally managed to locate us online. We have one of the most dedicated customer service teams in America. They work their hearts out everyday to bring the people in our community great deals on Jeep and Dodge vehicles. With inventory like Dodge and Ram, you always win.
You can talk to us online, text, or phone. Discuss your next Jeep or Dodge SUV by getting in contact with us today. And don't forget, we have home and office delivery now. You can actually buy your next SUV completely online and then have it delivered right to wherever you are. It's just one more way we're delivering a convenient experience to our customers.