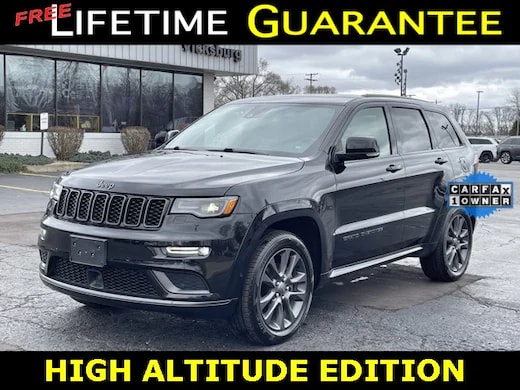 Families need a good Grand Rapids SUV dealer. At Vicksburg CDJR, we're willing to go the extra mile to win your business and keep it over the years. Our SUVs for sale include the huge volume of models that Jeep and Dodge have for sale this year:
? Jeep Gladiator
? Dodge Durango
? Jeep Wrangler
? Jeep Wagoneer & Grand Wagoneer
? Jeep Compass
That's not even a full list of the models up for sale in our new and used Jeep and Dodge sections. You'll find your favorite models over the years are still alive and well in pre-owned or CPO form. Any time you see Vicksburg CDJR, you can bet we have no shortage of Jeep SUVs or Dodge SUVs. Both of these brands have some of history's finest SUVs to choose from.
CPO or Pre-owned?
When you've got models like the Grand Cherokee, Grand Wagoneer, Durango, and Compass to choose from, it's easy to pick out a favorite. Your main question may be whether or not to buy certified pre-owned or just pre-owned. Both offer their own set of benefits. You'll find both forms at our Grand Rapids SUV Dealer.
Certified Pre-owned for Like New
CPO models are from a younger model year, have more modern features, and will come with fewer miles on them. For people who are staunch new buyers first experimenting with used models, the CPO SUV might be something you're more comfortable with. There are strict guidelines for certification, extended warranties, and complimentary roadside assistance with CPO models. They will be priced higher than average used models most of the time, but if you want as close to new as possible, then CPO is a great buy.
Regular Pre-owned for Savings
Just because a model isn't "newer" or very low mileage doesn't mean you're going to be disappointed in a "regular" pre-owned model. That's because Vicksburg CDJR inspects all of our models to make sure they're quality. Since you know you're getting a reliable vehicle right offhand, it might not matter that it's not certified to you. As for the warranties on CPO models, you can still buy extended warranties on regular inventory. You'll just pay for it separately.
Both Pre-Owned Types are Great
Jeep and Dodge owners take great care of their vehicles, so whether you buy CPO or pre-owned only doesn't matter so much as you're shopping from two of the most reliable SUV makers in the industry. You'll find our Jeep SUVs and Dodge SUVs are both high standard and meet your high standards, too. We designate CPO inventory on our website, so as you're shopping, you can pick CPO models only to search from. If you want to see both types, just browse or search generally.
Visit Vicksburg CDJR
The tough Jeep and Dodge brands are always popular here at our Grand Rapids SUV dealer. The SUV remains a popular family favorite. Check out our online inventory today to select the SUV you want to finance this year. You may contact us with any questions you have.